Collaboration: Simplified. Productivity: Unlocked.
Intuitive, Secure Task Management Software.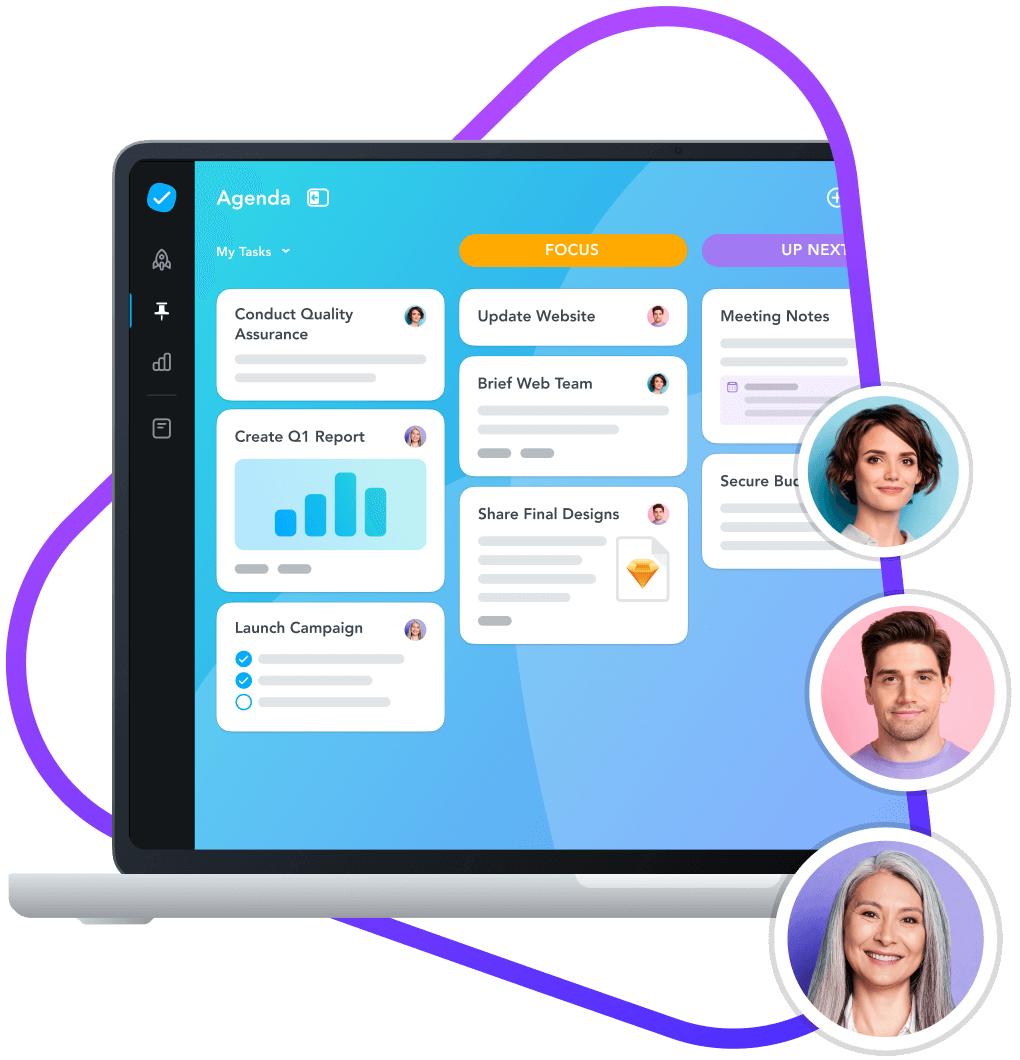 Project Chaos? Focus On What Matters With MeisterTask.
Task Management Was Never So Simple.
Remember when team projects were fun? You worked fast, stuck together, and got things done. You managed less, but you did more.

Getting back to business is as easy as choosing the right task management tool. Give your team simplicity – and they'll give you your time back. Unlock greater productivity with MeisterTask: a simple, secure way to get your team on the same page.
Structured Task Management
Your Team.

Empowered.
MeisterTask helps your team focus on the work, rather than the tool. Its intuitive design makes it easy to collaborate on projects from kick-off to completion. With only the features you really need, everyone can get started with MeisterTask straight away.
Team Task Management
Your Team.

Together.
Get the bigger picture and the finer details of your projects in one place, so your team is always on the same page. No more searching for information. No more confusing email chains. Just easy, transparent communication at every stage of your project.
Secure Task Management
Your Team.

Secured.
We're as serious about security as you are. Based in Germany, MeisterTask is GDPR compliant and ISO 27001:2013 certified. With peace of mind that your data is protected and secure, your team can work together with confidence – and without interruption.
Teams Everywhere Achieve Greater Project Success with MeisterTask. Your Team Can, Too.
Get to Know Task Management
Talk to an Expert.
Good work doesn't need to be hard work. Book a free consultation with a Meister productivity expert – and you'll soon get your team's tasks in order.
Book now
Task Management for Everything
What Is MeisterTask For?
So you're looking for a new task management software. How about a tool that does so much more? Manage projects, improve teamwork and keep your team running smoothly. One tool, endless use cases.
Working hard, but not getting results? Need to bring order to your team's daily business with future-proof workflows? Now you Kanban.
Your team should be ready for anything. Keep your projects agile – and your customers happy – with project management that makes it simple to adapt to change.
Flip the script. Centralize your team's communication where the action happens: in your projects. Fewer emails, fewer meetings, more time for productive work.
Wherever you are, whatever you do – find a way to get things done. With secure cloud access and a handy mobile app, you can recreate your office workflows from anywhere.
It's Made for You.
Learn From Successful Teams Worldwide.
Banking
What's better than task management software that can modernize outdated processes, reduce meetings and cut email traffic? That's right. A GDPR-compliant tool that does it while keeping team data safe.
Digital transformation in a bank needs patience… and the right tools. MeisterTask helps us turn our vision into reality.
Sebastian Kraft
Head of Organizational Development, Volksbank Raiffeisenbank Würzburg
Manufacturing
You're (probably) not building rockets… so why turn processes into rocket science? If you have a manufacturing team, MeisterTask means high quality, quick turnarounds and reduced operating costs.
It's a tool for everything. We use MeisterTask for projects, Monday meetings, shop floor management and much more.
Torsten Schlegel
Process Coordinator, Ritter Sport
Public Sector
Long meetings. Endless committee discussions. No action. Sounds like your day-to-day work? End the frustration and keep things moving with MeisterTask – the fastest route from to-do to done.
It no longer requires 10 or 12, but only four steps to set up a project and get everybody on board. MeisterTask is our single source of truth when it comes to task management.
Megan Morrissey
911 Specialist, Palm Beach County
Your Team
Keeping task management simple makes it accessible for everyone. Any team can get their projects and daily business in order. Ready to turn those to-dos into to-dones? Get the MeisterTask effect today.
We call it "The MeisterTask Effect." The tool gives me back an hour of my time every day.
Holger Lehmann
Head of Consulting, processline
Task Management – Why and How?
Transformation You Can Bank On.
Introducing task management software to your team? Do it one step at a time. Learn how a traditional German bank has discovered stronger team alignment, productivity, and balance with MeisterTask... and how you can too.
Get the Case Study
Starting With MeisterTask?
Task Management That's Easy as 1, 2, 3.
Set Up.
You can sign up online and explore the tool in minutes! Need advice? Talk to our sales team about a product demo or a free trial for your team.
Invite.
It's time to get your team on board! Use Meister's centralized management platform to send invites to your team and start working together.
Explore.
Now it's time to set up your first projects in MeisterTask. If you're switching from another tool, you can easily migrate your projects with our simple import function.
Project Clarity Means Project Success.
Get the Bigger Picture With Project Documentation.
Why should you choose between real-time updates and a full project overview? Get the best of both worlds with MeisterTask. Document your project plans, progress and learnings with Notes, and execute your Tasks in Project Boards. From the bigger picture to the finer details, your team has everything they need to collaborate effectively.
What You've Always Wanted To Know About Task Management.
MeisterTask Is Simpler Than You Think.
What Is Task Management?
Task management is the structured, digitalized processing of tasks using a dedicated software. MeisterTask is an excellent example, but many others do exist.
What Is Task Management Software?
Task management software can help you visualize what needs to be done, when. It shows you who is responsible for a task, when it is due, and much more.
What Is Kanban?
Kanban is a workflow management method that helps teams work consistently and efficiently. Task management tools like MeisterTask use Kanban boards to help visualize workflows.
What Is Waterfall/Agile Project Management?
The two most popular project management methodologies. Waterfall is the traditional, linear way of managing tasks, while agile tools like MeisterTask use a more flexible iterative approach.
Why Do You Need Task Management Software?
Online task management software helps you work efficiently and consistently. Long term, you and your team will be able to get more done and improve your standard of work.
What Is The Key Benefit of MeisterTask?
Everyone uses task management software differently. We find that our users enjoy better organization, smoother collaboration and improved communication with MeisterTask.